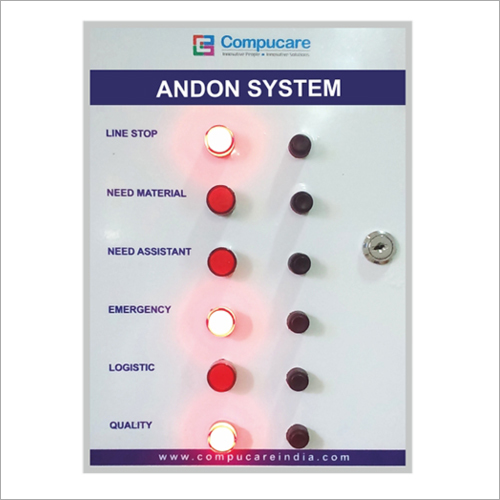 Andon Display System
Product Code : 165
Product Description
Have you ever pulled a rope or pressed a button in a bus, tram or maybe on a ride to notify the driver to stop? If so then you have used the Andon system. The word Andon is a Japanese term meaning fixed paper-closed lantern.
It is now associated with a system that is used for alerting operators and managers in a manufacturing plant to have continuous information flow. The purpose of the display is to provide visual notification to the management, maintenance and other works about the quality, process problems or change in the status of the manufacturing. The Andon Display system enables people around to be notified of a situation immediately.

Andon display system is colour-coded to signify the gravity of the problem. They are as follows:
• Green: Normal
• Yellow: Attention is required.
• Red: Urgent attention is needed or it is an emergency state.
These colour codes are quite useful in drawing attention to a large gathering of people in a manufacturing plant. One of the primary reasons that Andon system has become quite a beneficial tool for communication is because it can notify the gathering without losing the continuity.


Here are some of the advantages of using the Andon system:

• Speedy assistance can be provided.
• Response time can be reduced.
• Thwarts unnecessary shutdowns.
• Fault repairs can be done quickly.
• Improvements can be made that are long lasting from intelligent reporting.

Andon system is useful in establishing a continuous flow of communication system from a distance with a single or a group of people.