Head Counting Software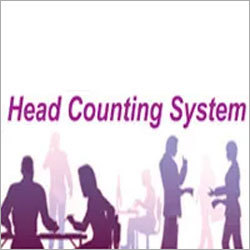 Head Counting Software
Product Description
Head Count Software is utilized to know how many employees are there at your site at any point of time. It aids to take precautionary stride at the case of emergency. This software can also be utilized to know how much strength you have at a particular time on a particular location. There are other properties like you can show greetings on the screen and news related to the company.
Head Count Software has the unique ability to show the absolute count of people inside the company site in real-time at any case. It provides a 'One Glance' live count view of the figure of people within various fields / zones on the dash board. In HR Analytic and Reporting teams, the Headcount reporting solutions of this software gives the standard set of reports that all organization require. As we know that public companies need to report headcount outwardly to the financial markets as well as to local government authorities. The companies also look for an internal management of personnel costs, the offered software monitors the general health of the organization.
Features:
Live Dashboard that features the number of persons in the company site in Real Time.

Zone-wise and Floor-wise information of persons working in respective zones.

Automatic printing of Emergency Fire list for information of persons inside the site in case of exigency triggers.

Alerts for persons incoming particular Red flagged/sensitive zones.

Monitors engaged areas for overcrowding. The system comparatively gives an accurate means of managing the capability of people.

Conformity to building safety and emergency rules.

With count display malleability, the count can be exhibited in special zone readers, zones of limited capacity and restricted entry fields for security reasons.

One can specify the Areas/Locations/Zones in the premises for the count in the master form.

Safety in ground of restricting the entry of definite employees/visitors in definite areas of the premises.

Separation of total person inside the company site into number of employees, visitors, and contract workers at any instant.
Key Benefits:
Easily integrated with our time attendance system
Easily tracking of employee inside the premises
Direct Report Department wise
No Need to process data
Online Data downloading
Trade Information
Cash Advance (CA), Cash in Advance (CID)

500 Per Day