Power Plant Production Monitor Display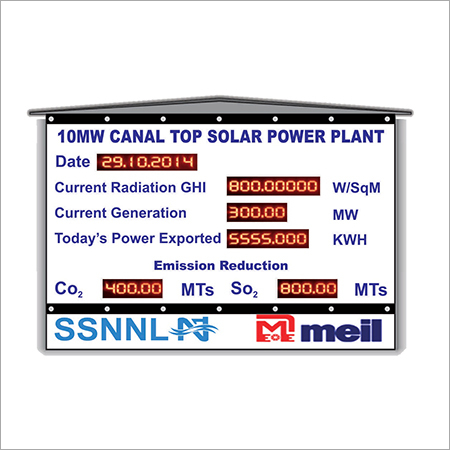 Power Plant Production Monitor Display
Price And Quantity
Product Specifications
Product Description
Introducing our cutting-edge Power Plant Production Monitor Display, the ultimate solution for real-time monitoring and visualization of essential performance indicators in manufacturing plants. Designed with precision, this state-of-the-art Production Information Management Display Board revolutionizes the way you track and analyze crucial metrics to enhance overall plant efficiency.
Featuring a crystal-clear LED display, our monitor presents a concise and comprehensive overview of key production metrics such as productivity, downtime, efficiency, and quality. With this information at your fingertips, plant managers and operators gain immediate visibility into process performance, empowering them to make informed decisions and swiftly implement necessary corrective actions.
The customizable nature of our display board sets it apart from the competition. We understand that every manufacturing facility has unique requirements, and our product can be tailored to meet those specific needs. Whether it's adjusting the layout, incorporating additional metrics, or integrating with existing systems, our solution adapts seamlessly to ensure it effectively complements your operations.
Key Features:
Real-time monitoring: Stay updated with up-to-the-minute data on production metrics, providing a clear snapshot of your plant's performance at any given moment.
Visualize performance indicators: The LED display delivers concise and visually appealing representations of crucial metrics, enabling quick and effortless comprehension of complex data.
Immediate insights: Gain immediate visibility into process performance, allowing you to identify bottlenecks, areas for improvement, and opportunities for optimization.
Timely decision-making: Armed with real-time information, plant managers and operators can make well-informed decisions promptly, improving overall productivity and efficiency.
Corrective actions: With instant access to performance metrics, you can swiftly implement necessary corrective actions to address issues and maintain smooth operations.
Customizability: Tailor the display board to suit your specific requirements. Adjust the layout, incorporate additional metrics, or integrate it with existing systems seamlessly.
Our Power Plant Production Monitor Display is not just a tool; it's a game-changer in manufacturing plant management. Embrace the power of real-time information and take control of your operations like never before. Experience the difference with our advanced display solution, designed to meet the unique needs of your manufacturing facility.
Trade Information
Carton Box.

Asia, Australia, Central America, North America, South America, Eastern Europe, Western Europe, Middle East, Africa